Archive for the 'Cross Cultural Comments' Category
"The limits of my language are the limits of my own world"
L. Wittgenstein
I think there are angels …
just a photo taken in New York … !
| | | |
| --- | --- | --- |
| Happy Birthday, Moses Asch!Monday, December 2, 2013, would have been the 108th birthday of Folkways Records founder Moses "Moe" Asch (1905–1986). Folkways Records issued 2,168 albums in 39 years (an amazing average of one per week!). | | |
"The future belongs to those who believe in the beauty of their dreams."
… Not any old dream … just the beautiful ones…
If you're interested in the history and global use of English, here's a very good source:
The History of English in English …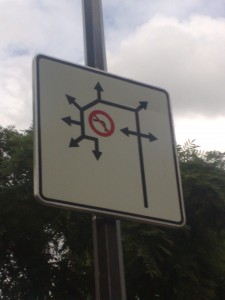 I am sincerely proud to hold French nationality as well as American citizenship. But of course, having a French passport does not make you French.
Parisians are very smart. They can understand this traffic sign as they pass it while driving at the city speed limit of 50km/hour in their approach to the stoplight.  I wonder if it's on the test for the good-for-a-lifetime "permis de conduire" (permission to drive)?
(at Denfert …)
((Laughing … at ourselves ???))