Archive for the 'Cross Cultural Comments' Category
"The way we talk to our children becomes their inner voice."
Peggy O'Mara / Elvira Götz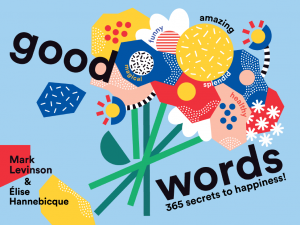 only €19,95
A gift to yourself – or a gift to those you love!
now available in hardcover at Amazon.fr
and in Paris at
Brentano's – 37 avenue de l'Opéra
and in Denmark at
Louisiana Museum of Modern Art
The Museum of Contemporary Art, Roskilde, Denmark
or, for multiple copies, contact me at
mark.levinson@paris-savannah.com
What makes a teacher a teacher … and a student a student?
A student, a real one, is someone who wants to understand … and a teacher, a  real one, is one who, understanding students,  provides insight.
"I realized that in his vulnerability, the foreigner could only count on the hospitality shown by others … Just as words are shown the hospitality of the blank page and the bird, the unconditional hospitality of the sky."
Edmund Jabès, "Le Livre de l'Hospitalité"
Thank you, Savannah, for the hospitality you offered me on my recent stay. Both as native and foreigner, I am grateful to Ron and Ann, Leonard and Suzanne and Jane, Rusty and Renée, Howard and Mary, Marjorie, Ann, Sandra, Katherine, Marion May playing sax and flute, the AA, the JEA, AJ's, the Telfair, and every one, without exception, for their goodwill, welcome and courtesy of the most gracious city on the planet.
I think it was Bill Gates who said that "Done" was better than "Perfect" … Jean Pierre Lefebvre, president of AKDV, the Parisian Design Agency whose very high work standards are and have always been those of beauty and excellence in every way turned that around to say:
"Perfection" is the enemy of "Good" His teams are very efficient … and get things done well, reliably… and on time!
On the scale of parental sufficiency, Donald Winnicott, the eminent British psychoanalyst, also arguing against perfection,  introduced the concept of being "Good enough" parents.
And my favorite was what Maria Callas had to say when her impresario asked her if she would sing "Norma" at La Scala in Milan on 10 days' notice: "My best I can do; more than that I cannot promise.
Aiming at excellence is perhaps all that we can really do.